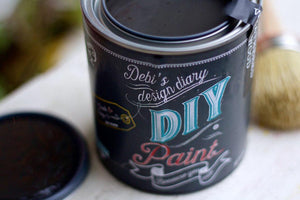 DIY Paint
Black Velvet DIY Paint | Clay & Chalk Paint
Sale price Price $13.00 Regular price Unit price / per
DIY Clay & Chalk Paint - Great for Furniture! -
LOVELY, RICH VELVETY BLACK - SILKY SOFT BLACK
8 OZ SAMPLE JAR - Perfect for a small project like a chair or small side table.

16 OZ PINT - Usually more than enough to complete a good size piece of furniture.

DIY Paint Company products CANNOT BE INCLUDED IN FREE SHIPPING OR OTHER SALE PROMOTIONS.

Usually ships within 2-4 business days.

SHIPS ONLY WITHIN THE CONTINENTAL UNITED STATES.

See Images below

and/or

Examples of Paint Pairings below.
INSTRUCTIONS: 
1.  Clean & Dry object to be painted. 
2.  Remove lid & stir thoroughly. (Sometimes you don't even need to stir our paint!  It's that good) 
3.  Apply one coat & allow to dry. (15 min to a few hours to dry, depending on climate) 
4.  Apply second coat, if needed. 
5.  Allow second coat to dry. 
6.  Seal surface with DIY Paint Finishes
DO NOT FREEZE!
ONLY 9 INGREDIENTS + LOVE --- INGREDIENTS: Love, water, clay, porcelain clay, chalk, alcohol, ester (as a binder), cellulose, pigments, preservative.
Black Velvet DIY Paint, Lovely & Velvety! – DIY Paint Black Velvet, a best seller and classic neutral, can be the backdrop for understated or bold pieces. Even when used in small amounts, Black Velvet highlights whatever color it is paired with.  To create Charming Contrast, pair with Petticoat Pink (it's become a neutral too!). For High Contrast, pair White Swan; for a Calm Contrast, pair with Tarnished Pearl, Crinoline or Sandy Blonde; for Modern pair with Letter Press Grey or Old School; for Luxury, pair with Salty Kiss or Monet's Garden; for Eclectic, pair with Queen Bee; and for Energy, pair with Marquee and Fire Starter. She's stunning with cooper over or under her and a little Gold never hurt either! Cooper and Gold Liquid Patinas  FYI - Black Velvet is a soft black and Little Black Dress is deep, true black.