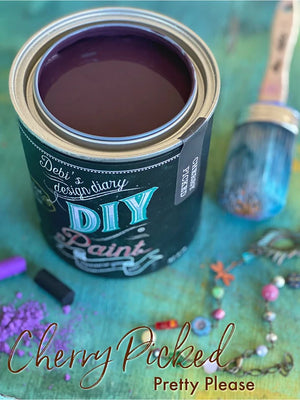 DIY Paint
Cherry Picked DIY Paint
Sale price Price $13.00 Regular price Unit price / per
Cherry Picked Please!
THINK STATELY, BUT DELICATE like the BUTTERFLY. INSPIRED BY MONET! 
8 OZ SAMPLE JAR - Perfect for a small project like a chair or small side table.

16 OZ PINT - Usually more than enough to complete a good size piece of furniture.

DIY Paint Company products CANNOT BE INCLUDED IN FREE SHIPPING OR OTHER SALE PROMOTIONS.

Usually ships within 2-4 business days.

SHIPS ONLY WITHIN THE CONTINENTAL UNITED STATES

See images below

and/or

Examples of Paint Pairings below.
INSTRUCTIONS: 
1.  Clean & Dry object to be painted. 
2.  Remove lid & stir thoroughly. (Sometimes you don't even need to stir our paint!  It's that good) 
3.  Apply one coat & allow to dry. (15 min to a few hours to dry, depending on climate) 
4.  Apply second coat, if needed. 
5.  Allow second coat to dry. 
6.  Seal surface with DIY Paint Finishes
DO NOT FREEZE!
ONLY 9 INGREDIENTS + LOVE --- INGREDIENTS: Love, water, clay, porcelain clay, chalk, alcohol, ester (as a binder), cellulose, pigments, preservative.
Cherry Picked DIY Paint -  This is a beautiful color; just like a dark cherry!  Goes great with Cowgirl Coral and Petticoat Pink.  I love Cherry Picked with French Millinery with DIY Golden Ticket Liquid Patina!  Stunning with white or dark/black wax.