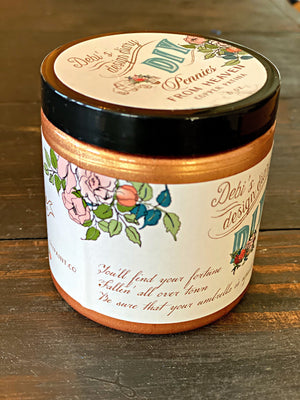 DIY Paint
DIY Paint - Copper Liquid Patina AKA Pennies From Heaven
Sale price Price $33.00 Regular price Unit price / per
BRIGHTER THAN A NEW PENNY -
A HEAVENLY FINISH IN A SHIMMERY, COOPER PATINA!
Copper Metallic patina is for adding an a shimmery copper sheen  over your surface, it can be used as a translucent accent or a made stronger with added coats. 
DIY Paint Company products CANNOT BE INCLUDED IN FREE SHIPPING OR OTHER SALE PROMOTIONS.

Usually ships within 2-4 business days.

SHIPS ONLY WITHIN THE CONTINENTAL UNITED STATES
INSTRUCTIONS:
 Allow DIY Paint to dry for 24 hours to ensure it is set before applying DIY Liquid Patina.
 Pour a small amount directly onto your dry surface, and use a rag, sponge, or paintbrush to apply an even coat to the entire surface.
DEBI'S TIPS:
 Work in small sections to avoid a patchy finish.
 Apply a second coat to minimize brush strokes.
DO NOT FREEZE!
 TOP COAT + SHIMMER MEDIUM