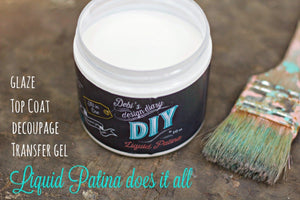 DIY Paint
DIY Paint - Crystal Clear Chandelier Liquid Patina | Topcoat-Decoupage-Transfer-Glaze
Sale price Price $28.50 Regular price Unit price / per
Crystal Clear Chandelier Liquid Patina is a low sheen, durable brush-on finish; the look of wax without all the work. Four Products in One! TOPCOAT SEALER +  TRANSFER GEL + GLAZE MEDIUM + 

DECOUPAGE MEDIUM (One of the best!) It will NOT yellow, fade or become cloudy over time.
8 OZ.

16 OZ PINT.  

It is our "Secret Sauce" - Four in One Product.

Use the clear liquid patina instead of wax for a simple, durable finish for indoors & protected outside furniture or decor!
DIY Paint Company products CANNOT BE INCLUDED IN FREE SHIPPING OR OTHER SALE PROMOTIONS.
Usually ships within 2-4 business days.
SHIPS ONLY WITHIN THE CONTINENTAL UNITED STATES
---
INSTRUCTIONS:
1.  Allow DIY Paint to dry for 24 hours to ensure it is set before applying DIY Liquid Patina.
2.  Pour a small amount directly onto your dry surface, and use a rag, sponge, or paintbrush to apply an even coat to the entire surface.
DEBI'S TIPS:
1.  Work in small sections to avoid a patchy finish.
2.  Apply a second coat to minimize brush strokes.
3.  Use as glue and sealer for decoupage projects.
Watch Debi's Videos on How to Use Liquid Patina as a medium at www.desbisdesigndiary.com
DO NOT FREEZE!
---
TOPCOAT + TRANSFER GEL + GLAZE MEDIUM + 
DECOUPAGE MEDIUM