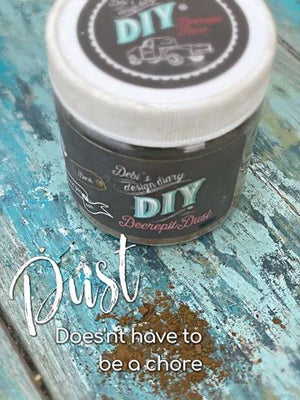 DIY Paint
DIY Paint - Decrepit Dust | Antiquing Patina Dust
Sale price Price $14.00 Regular price Unit price / per
Antiquing Decrepit Dust - Patina Dust in Dark and White
Size: 25gr

Antique your project with our antiquing decrepit dust! Use just a pinch over clear wax for a look that is more subtle than dark, black or white wax. Our dust will sit in the nooks and crannies and add beautiful detail to your furniture. Try white (light) or dark dust for an aged decrepit look.
*The dust will fill about half of the 4oz jar. That is normal and correct to how much should be in there because it is 4 oz weight not volume. They want there to be room at the top so it doesn't fly out when opened. 
DIY Paint Company products CANNOT BE INCLUDED IN FREE SHIPPING OR OTHER SALE PROMOTIONS.

Usually ships within 2-4 business days.
SHIPS ONLY WITHIN THE CONTINENTAL UNITED STATES
---
Antique you project with DIY Paint Decrepit Dust! Use just a pinch over wax for a look that's more subtle than white, dark or black wax. 
Wait about 15 minutes after applying clear wax.  This will give the wax time to absorb into your piece.  You want the wax tacky, but not slippery.  T
ake just a pinch of the Decrepit Dust and sprinkle over ornate or carved areas.  A little goes a long way because this product is heavily pigmented.  Work the Decrepit Dust into the wax. The Decrepit Dust
 will settle into all the nooks and crannies and it will add an aged, worn detail to your furniture.